CORVETTE Catalogue
Fiberglass and Steel Parts
If a part begins with the letter "G" under "PART#" it is referring to fiberglass.
Any other instances, including "S" and "ST" are describing steel parts. Much more coming soon!!

A picture gallery is included along with full price list. See below table for gallery.
Thanks for your interest. Please call or Email any needs. Contact the company
by e-mailing Showcars@idirect.com (click link) or telephone (905) 857-6345.
| | | | | | | |
| --- | --- | --- | --- | --- | --- | --- |
| year /to | make | model | part# | part | description | us-retail |
56

57

Chev

Corvette

g3233

Front Fender

56

57

Chev

Corvette

g3234

Grille Section

56

57

Chev

Corvette

g3235

Roof

56

57

Chev

Corvette

g3236

Hood

stock, Pin-on

56

57

Chev

Corvette

g3237

Hood

stock, Bolt-on

57

Chev

Corvette

g3245

Hood

Pin-on

57

Chev

Corvette

g3246

Hood

Bolt-on

58

62

Chev

Corvette

g3240

1 Piece Front End

58

62

Chev

Corvette

g3241

Center Wheels Forward

58

62

Chev

Corvette

g3242

Inner Fender

58

62

Chev

Corvette

g3243

Flat Hood

Pin-on

58

62

Chev

Corvette

g3244

Flat Hood

Bolt-on

58

Chev

Corvette

g3247

Hood

Pin-on

58

Chev

Corvette

g3248

Hood

Bolt-on

58

62

Chev

Corvette

g3251

Roof

58

62

Chev

Corvette

g3252

Hood

With L-88 Scoop

58

62

Chev

Corvette

g3253

Trunk Lid

58

62

Chev

Corvette

g3254

Door

59

60

Chev

Corvette

g3249

Hood

Bolt-on

61

62

Chev

Corvette

g3250

Hood

Bolt-on

63

64

Chev

Corvette

g3255

1 Piece Front End

Without Hood

63

64

Chev

Corvette

g3258

Hood

stock, Pin-on

63

64

Chev

Corvette

g3259

Hood

stock, Bolt-on

63

67

Chev

Corvette

g3265

396 Hood

Pin-on

63

67

Chev

Corvette

g3266

396 Hood

Bolt-on

63

67

Chev

Corvette

g3267

437 Hood

Pin-on

63

67

Chev

Corvette

g3268

437 Hood

Bolt-on

63

67

Chev

Corvette

g3269

5" Snorkle Hood

Bolt-on

63

67

Chev

Corvette

g3270

7" Snorkle Hood

Pin-on

63

67

Chev

Corvette

g3271

L-88 Hood

Pin-on

63

67

Chev

Corvette

g3272

L-88 Hood

Bolt-on

63

67

Chev

Corvette

g3273

Flat Hood

63

67

Chev

Corvette

g3274

Centre Wheels Forward

63

67

Chev

Corvette

g3275

Front Wheel Wells

63

67

Chev

Corvette

g3276

1/4 Panel

63

67

Chev

Corvette

g3277

Rear Wheel Wells

63

66

Chev

Corvette

g3278

Taillight Panel

63

67

Chev

Corvette

g3280

Roof

63

67

Chev

Corvette

g3281

3.5" Front Flares

Road Race

63

67

Chev

Corvette

g3282

Rear Flares

Road Race

63

67

Chev

Corvette

g3283

Rear Spoiler

63

67

Chev

Corvette

g3284

Front Spoiler

63

67

Chev

Corvette

g3285

Front Spoiler

With Ducts

63

67

Chev

Corvette

g3286

Flares

63

67

Chev

Corvette

g3287

Flares

4" Wider

63

67

Chev

Corvette

g3288

Inner Fender

65

66

Chev

Corvette

g3256

1 Piece Front End

Without Hood

65

Chev

Corvette

g3260

Hood

Pin-on

65

Chev

Corvette

g3261

Hood

Bolt-on

65

67

Chev

Corvette

g3264

Hood

stock, Small Block, Bolt-on

66

Chev

Corvette

g3262

Hood

Pin-on

67

Chev

Corvette

g3257

1 Piece Front End

Without Hood

67

Chev

Corvette

g3263

Hood

Bolt-on

67

Chev

Corvette

g3279

Taillight Panel

67

Chev

corvette

g0014

hoodscoop

67 vette 427style

68

81

Chev

Corvette

Daytona Kit - front bumper w/spoiler,wraparound frontend (less hood &bumper) inner fenders, door skins, 1/4 panels, bolt-on rear panel w/integral tail, rocker skirts, fender louvres, custom hood-bolt on.

crating $150.00

$ 4,500.00

68

72

Chev

Corvette

g3301

1 Piece Front End

Without Hood

68

82

Chev

Corvette

g3302

Custom 1 Piece Front End

Without Hood or Pop-Ups

68

82

Chev

Corvette

g3303

Custom 1 Piece Front End

Without Pop-Ups

68

up

Chev

Corvette

g3304

Hood Surround

Specify Year

68

up

Chev

Corvette

g3305

Hood Surround

Partial

68

82

Chev

Corvette

g3307

Front Bonding strips

68

73

Chev

Corvette

g

Taillight Panel

$ 159.00

68

82

Chev

Corvette

g3308

Inner Fender

68

72

Chev

Corvette

g3309

Rear Fender Panel

68

82

Chev

Corvette

g3310

L-88 Hood

Pin-on, Specify Year

$ 295.00

68

82

Chev

Corvette

g3311

L-88 Hood

Bolt-on, Specify Year

$ 395.00

68

82

Chev

Corvette

g

6" L88 hood

pin on

$ 395.00

68

82

Chev

Corvette

g

6" L88 hood

bolt on

$ 495.00

68

up

Chev

Corvette

g3314

Hi-Rise Hood

Pin-on, Specify Year

68

up

Chev

Corvette

g3315

Hi-Rise Hood

Bolt-on, Specify Year

68

72

Chev

Corvette

g3318

427 Hood

Bolt-on

68

72

Chev

Corvette

g3319

427 Hood

Pin-on

68

72

Chev

Corvette

g

hood- LT-1

pin-on

$ 329.00

68

72

Chev

Corvette

g

hood- LT-1

bolt-on

$ 429.00

68

83

Chev

Corvette

g3320

Flat Hood

Pin-on

$ 295.00

68

83

Chev

Corvette

g

Flat Hood

bolt-on

$ 395.00

68

83

Chev

Corvette

g

daytona side-vent types

pin-on

$ 329.00

68

83

Chev

Corvette

g

daytona side-vent types

bolt-on

$ 429.00

68

83

Chev

Corvette

g3321

Turbo Hood

2 Scoops

68

83

Chev

Corvette

g3322

Turbo Hood

1 Scoop

68

83

Chev

Corvette

g

twin turbo

pin on

$ 329.00

68

83

Chev

Corvette

g

twin turbo

bolt on

$ 429.00

68

83

Chev

Corvette

g

4"cowl hood

pin on

$ 329.00

68

83

Chev

Corvette

g

4"cowl hood

bolt on

$ 429.00

68

83

Chev

Corvette

g3323

Cold Air Box

68

up

Chev

Corvette

g3324

Fender Panel

68

72

Chev

Corvette

g

Front Spoiler

$ 110.00

68

72

Chev

Corvette

g3327

Front Spoiler

Racing

68

72

Chev

Corvette

g

rear spoiler/ pedestal

2 styles

$ 289.00

68

72

Chev

Corvette

g3328

Pace Car Front Spoiler

3 Pc.

$ 189.00

68

73

Chev

Corvette

g3332

pace car rear

bolt on

$ 119.00

68

73

Chev

Corvette

g

spoiler

turbo wing

$ 349.00

68

73

Chev

Corvette

g

spoiler-daytona kit style

rear

$ 595.00

68

72

Chev

Corvette

g3336

Rear Filler Panel

68

83

Chev

Corvette

g3341

Front Flares

2" for 4

$ 349.00

68

83

Chev

Corvette

g3342

Rear Flares

2" for 5

$ 349.00

68

83

Chev

Corvette

g3343

Rear Flares

4"

68

83

Chev

Corvette

g3344

Can-Am Front Flares

68

83

Chev

Corvette

g3345

Can-Am Rear Flares

68

83

Chev

Corvette

g3346

Turbo Front Fenders

68

83

Chev

Corvette

g3347

Turbo Rear Fenders

68

83

Chev

Corvette

g

Inner Fender

each

$ 129.00

68

83

Chev

Corvette

g3348

Turbo Front Spoiler

68

80

Chev

Corvette

g3364

Fender

Daytona Louvres - pair

$ 89.00

68

83

Chev

Corvette

g

Quarter panels

each

$ 119.00

68

83

Chev

Corvette

g

Turbo wing

$ 349.00

68

82

Chev

Corvette

g3349

Headlight Conversion

68

82

Chev

Corvette

g3350

Square Headlight Buckets

68

83

Chev

Corvette

g3353

Bubble Flares

Front

68

83

Chev

Corvette

g3354

Bubble Flares

With Front Panel

68

83

Chev

Corvette

g3355

Bubble Flares

Rear

68

83

Chev

Corvette

g3356

Bubble Flares

With Rear Panel

68

83

Chev

Corvette

g

Lower Valance panel

$ 59.00

68

82

Chev

Corvette

g3358

Shovel Nose Front Air Dam

68

82

Chev

Corvette

g3359

Shovel Nose Front Air Dam

With 4" Rubber Skirt

68

82

Chev

Corvette

g3360

Roof

68

82

Chev

Corvette

g

Kit style rear bumper

Daytona

$ 595.00

68

72

Chev

Corvette

g

rear bumpers

pair

$ 149.00

68

72

Chev

Corvette

g

front bumpers

pair

$ 129.00

68

82

Chev

Corvette

g3363

Side Scoops

pair

68

82

Chev

Corvette

g3299

Door

race - each

$ 279.00

68

80

Chev

Corvette

g3365

Hatchback Kit

68

80

Chev

Corvette

g

Greenwood style vette kit

$ 2,895.00

68

82

Chev

Corvette

g

Daytona vette kit

$ 3,995.00

68

82

Chev

Corvette

g

Turbo vette kit

$ 3,495.00

68

82

Chev

Corvette

g

Front 3 piece pace

car style

$ 189.00

68

82

Chev

Corvette

g3361

Mako Shark Kit

$ 5,900.00

68

82

Chev

Corvette

g3362

GT Kit

68

82

Chev

Corvette

g

Tilt front end w/flaired fronts

filled light area

$ 895.00

68

82

Chev

Corvette

g

flair set-2"fronts-3 1/2"rears

per 4

$ 349.00

68

82

Chev

Corvette

g

flairs- ZL-1 -rears 3 1/2"

per pair

$ 189.00

68

82

Chev

Corvette

g

sideskirts

pair

$ 349.00

68

82

Chev

Corvette

g

rear corner skirts

pair

$ 99.00

68

82

Chev

Corvette

g

wrap frontend

stock style w/o hood

$ 895.00

73

79

Chev

Corvette

g3300

1 Piece Front spoiler

$ 119.00

73

74

Chev

Corvette

g

front bumpers

pair

$ 249.00

73

74

Chev

Corvette

g

rear bumpers

pair

$ 295.00

73

up

Chev

Corvette

g3306

Front Fender Panel

73

up

Chev

Corvette

g3316

5" Snorkle Hood

Pin-on, Specify Year

73

up

Chev

Corvette

g3317

7" Snorkle Hood

Pin-on, Specify Year

73

79

Chev

Corvette

g3325

Lower Grille

73

77

Chev

Corvette

g3326

Air Dam

73

79

Chev

Corvette

g3329

Pace Car Front Spoiler

1 Pc.

73

79

Chev

Corvette

g3330

Front Spoiler

Plain

73

79

Chev

Corvette

g3331

Pace Car Front Spoiler

3 Pc.

73

77

Chev

Corvette

g3340

Rear Bumper

73

79

Chev

Corvette

g3351

Rear Fender Flares

With Splash Guards, Pair

73

75

Chev

Corvette

g3352

Front Fender Panels

Flared, With Splash Guards & Reversed Louvres

74

79

Chev

Corvette

g3335

street Wing

74

77

Chev

Corvette

g3333

Rear Spoiler

75

Chev

Corvette

g3337

Pace Car Rear Spoiler

75

79

Chev

Corvette

g

rear bumpers

pair

$ 295.00

75

79

Chev

Corvette

g

front bumpers

pair

$ 249.00

76

up

Chev

Corvette

g3338

Pace Car Rear Spoiler

78

79

Chev

Corvette

g3334

Rear Spoiler

78

82

Chev

Corvette

g3357

Whale Tail

80

Chev

Corvette

g

rear bumpers

pair

$ 295.00

80

Chev

Corvette

g

front bumpers

pair

$ 295.00

80

Chev

Corvette

g

front bumpers

fender adapters

$ 55.00

80

82

Chev

Corvette

g

front bumpers

bolt on

$ 395.00

80

82

Chev

Corvette

Front Bumber

daytona

$ 395.00

80

82

Chev

Corvette

g3298

Rear Bumber

84

Chev

Corvette

g3366

DT1 Hi-Rise Hood and Front Fender

84

Chev

Corvette

g3367

DT1 Front Nose Bumber

84

Chev

Corvette

g3368

DT1 Front Nose Lower Spoiler

84

Chev

Corvette

g3369

DT1 Front Lower Fender 1/4

84

Chev

Corvette

g3370

DT1 Rocker Panel & Door Jam

84

Chev

Corvette

g3371

DT1 Outer Door & Inner

84

Chev

Corvette

g3372

DT1 Rear Bumper

84

Chev

Corvette

g3373

DT1 Rear Spoiler

84

Chev

Corvette

g3374

DT1 Rear Fender & Window Surround

84

Chev

Corvette

g3375

DT1 Rear Plexiglass Window

84

Chev

Corvette

g3376

DT1 Roof Cap & Slide Pilliars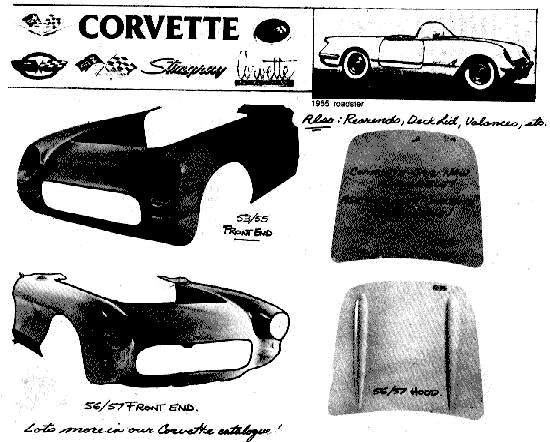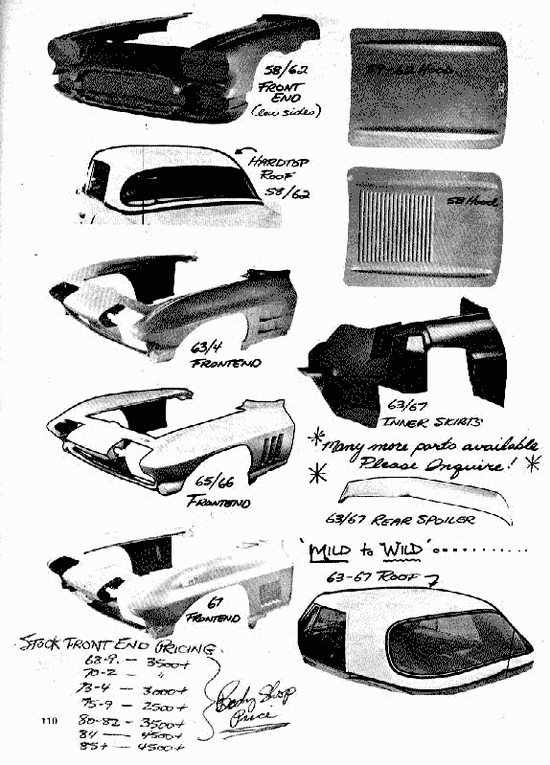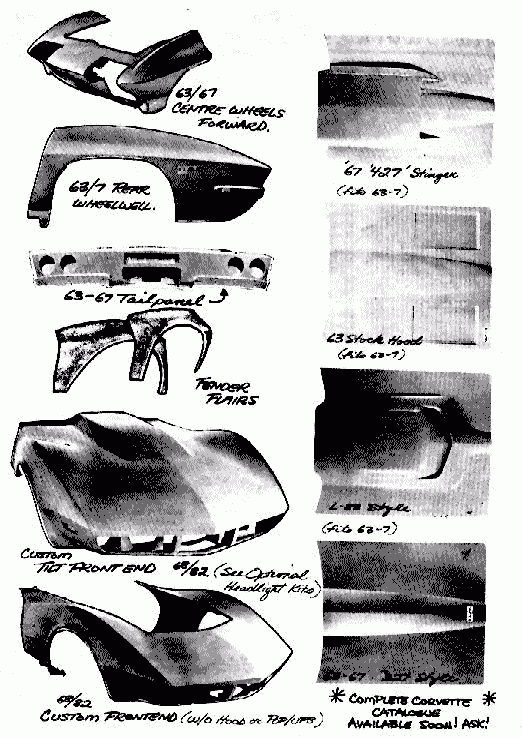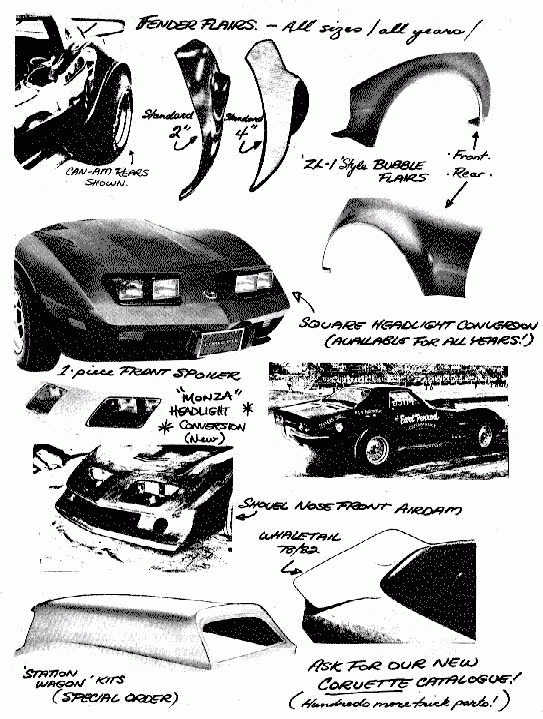 Links were updated December 2015