Used Parts / OrderInfo

WANTED-YOUR USED PARTS!

SEE OUR CLASSIFIED SECTIONS
USED SHEETMETAL INFO-A good used original part may be all that's available,or the best way to fix some situations!
We specialize in the hard to find!
*FENDERS- as original (1908 to Date)
*1/4 PANELS - includes wheel arch, part of trunk floor
......................- more than factory size
......................- specify if must be perfect or if minor work is acceptable
......................- state H.T. convertible, sedan, etc. and model (ie. impala vs.biscayne)
*DOORS-complete w/glass, tracks, etc.(specify tint or clear) empty (ship less)
*BUMPERS- specify if brackets required--- cores, usable or A1
*TRUNKLIDS- as original
*FLOOR PANS- pieces or complete with rockers
*TRUNKFLOORS- includes flat portion only, specify extras required
(ie. frame rails complete, quarter panel inners,tailpanel piece, wheel wells)
We can get you whatever you need!
*HOODS- many stocked, hi-performance and stock (also glass custom hoods)
*FRAMES AND RAILS- as required
*INNER FENDERS- front, rear, complete assemblies, please specify
*TAILLIGHT PANELS- cut as you request
*REAR CLIP- complete, cut across floor in door areas and across rear window openings or as "clip top", cut at windshield posts including roof **
*FRONT CLIP- includes dash and cowl forward **
** on these parts please specify extras needed (ie. bumpers,deck lids, fenders, .................................................................................................hood,grille, taillights,etc.)
*COMPLETE BODY ON REQUEST
*ORDERING INFORMATION- 50% deposit on order found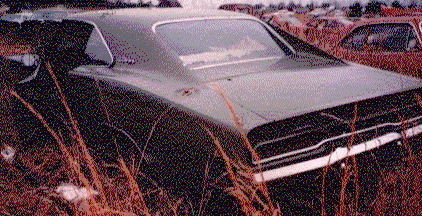 ..................................- allow extra time for parts out of stock
...................................- inquire timing on delivery
...................................- payment in full before shipment
*PAYMENT: money order, certified cheque, bank draft
*PRICING- varies greatly car to car/ by supply availability
Please call or E-mail for quote

Links were updated November 2015